Now from Boston Testosterone Partners Centers – the best whole food supplement available, BTP Superfoods with Greens Complex. After 6+ months of scientific and medical research & development, we are extremely proud to release the single best tasting and most complete all-in-one whole food formula on the market.
BTP Superfoods was formulated to include more sources of organic whole foods than any other Green Powders or Superfoods in production. It's blended from all organic food sources, raw juice extracts, essential nutrients and all natural alkalizing raw whole fruits and vegetable concentrates. And the taste is amazing!
What it is: BTP Superfoods is the perfect bridge for the many nutritional gaps we are all missing out on from our diets, in one easy daily scoop. Hundreds of health-supporting phytonutrients in the fruits, sprouts, grasses, vegetables, flowers, mushrooms, sea plants, and herbs all unite to produce a rare synergy. It will help rebuild vitality, mental clarity, and optimal well-being. Far more than just a supplement, it is an essential source of actual whole foods. Everything is sourced organically. And lastly, we promise it'll be the best tasting whole food powder you have ever tasted.
Whether you are an elite athlete or couch potato, everyone will benefit from adding in our Superfoods powder into their diet.
Cancer Protections: Very importantly, we would not settle on the final formula until we could get approval to include the same curcumin that Life Extension brands uses in their products, BCM-95 Super Bio-Curcumin. Most of out patients have used Life Extension's Super Bio-Curcumin for years for its reported cancer protections. Now, Super Bio-Curcumin the single best all inclusive cancer protecting supplement available can be found alongside BTP's most amazing superfoods.
More than just organic: Not only did we demand all the best Superfoods in the world to be included, but a ton of thought went into every possible part of the product. We made sure we bottled it in the most expensive plastic that is both BPA (Bisphenol A) Free and EA (Estrogenic Activity) Free. Everything has been organically sourced with no pesticides, herbicides, fungicides, heavy metals or wheat. We manufacture in a United States certified FDA cGMP pharmaceutical grade facility. There's no sugars and no fats. We sweeten only with all natural Stevia. No artificial colors, flavors, sweeteners or preservatives. Zero fillers. And it's Vegan friendly.
The Reviews are outstanding: The reviews have poured in from hundreds of our patients noting energy increases and improved focus from adding in a scoop of BTP Superfood. The most cosistent comment we hear is that the taste is outstanding. Our patients are health conscious men and women who have taken the other "greens" and they report ours is the most delicious they have ever had.
A couple of reviews posted on our ordering page:
"I recommend this product, just picked up a can myself and unlike other supergreens products I tried, this one doesn't taste like you're eating grass. Has a slightly sweet flavor (maybe from the banana flakes?) but not a fake-sweet flavor. Great in the morning on an empty stomach, I drink a glass before my kettlebell workout."     "This is a must have for anyone trying to eat and live a clean lifestyle. Its simple to take,and the taste is soooo much better than all other products in its class. I have been taking Life force for the past year and a half. The BTP superfood is far and away better!!!!!"
We don't call it a Superfood for nothing: An article published in June in the American Journal of Clinical Nutrition (Am J Clin Nut. 2013 Jun 26) revels an striking association between increased veggie and fruit intake and a LOWER risk of dying during 13 years of studies.
Of the 38,221 participants in the study, it was found that those who did not consume fruit or vegetables had a 53% greater risk of dying over the group that consumed vegetables and fruits.
Our Superfood with Greens Complex provides your greens, fruits and much much more in one easy scoop.
Everyone loves Free T-Shirts…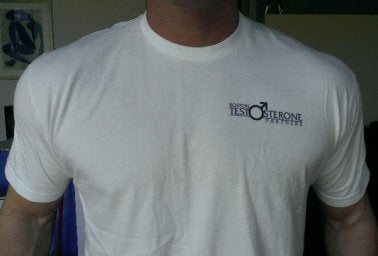 For a limited time, purchase a bottle or more of our BTP Superfoods with Greens and get a FREE athletic cut BTP/CORE Medical T- Shirt!! Email in your size and purchase order number from your order confirmation, and we'll have one of our T-Shirts shipped out to you!
CBlaisdell@CoreNewEngland.com – Charlie Blaisdell